How We Can Help
At MHThrive, our mission is to help people live healthier and happier lives.
We believe that all individuals have unique abilities and strengths and that they have an inherent capacity to live healthy, productive, and fulfilling lives. While the challenges of life can sometimes make life difficult, we believe that all people have the ability to develop the skills that they need to overcome the pain from the past, become happier in the present, and learn to thrive in the future.
Sometimes people become stuck in old patterns of thinking, feeling, and being. This can occur because of past traumas, unresolved losses, mental health issues such as depression and anxiety, substance abuse, or other life stressors. Our goal is to provide individuals, couples, and families a safe, supportive environment where they can heal from the hurts of the past and develop the skills that they need to make life more meaningful and fulfilling.
Areas Of Expertise
MHThrive provides Individual Therapy, Couples and Marriage Counseling, and Family Therapy at our locations in Katy, The Woodlands, and the Clear Lake area of Houston, Texas. We also provide telehealth therapy for anyone who resides within the State of Texas. Some of the areas that we treat include:
Depression
Anxiety
Panic Attacks
ADHD
Self-Esteem Issues
Stress Management
Anger Management
Relationship Conflicts
Adolescent Issues
Blended Family Issues
Anger Issues
Substance Abuse
Suicidal Thoughts
Self-Harm
Grief and Loss
Career Issues
Personal Growth
The Woodlands
25511 Budde Rd, Ste 2401
The Woodlands, TX 77380
Phone:
1-800-685-9796
Fax: 281-771-5540
Online Treatment Program: Serving Individuals throughout the state of Texas.
Anetra Williams, M.Ed., LPC, Associate supervised by Morgan Tuck M.A.. LPC-S, NCC
Anetra received her Bachelor of Science in Sociology from the University of Houston Clear Lake. She received her Masters in Education (M.Ed.) in Counseling and Development from Lamar University. She is experienced in working with trauma, anxiety, depression, bipolar disorder, schizophrenia, Autism, and IDD. Anetra's experience includes working with children, adolescents, couples, families, and adults. Her specialization is working in marriage and family therapy.  Anetra also has certifications in Reiki II and Children's Yoga.  Her previous experience includes over 10 years in education working with children with behavior issues.
Aysha Hussaini-Stewart, LMSW
Aysha Hussaini-Stewart, LMSW is the Clinical Director of the adolescent department at the Clear Lake location. Aysha received her Bachelor's degree with a double major in psychology and sociology from the University of Alabama in Huntsville. After several years of working various jobs in the mental health field she returned to school and obtained her Master's degree in social work from the University of Houston. Aysha has experience working with diverse populations and a variety of issues including LGBT+, substance use disorders, chronic pain, depression, anxiety, bipolar disorders, trauma, grief and other life stressors.
Jazmin Payne, LMSW, LCPAA
Jazmin received a Bachelor's Degree in Social Work with a concentration in mental health and a Master's Degree in Social Work general studies from Alabama A&M University. She has worked with children and families for 10 years including experience with in-home counseling, school social work, and international foster care. During her time in the field, she has worked with mental health, trauma-related behaviors, parenting skills, and substance abuse issues.
Terri Yanoviak, LCDC
My name is Terri Yanoviak and I am the counselor for the Chemical Dependency Program in Katy. I am a Licensed Chemical Dependency Counselor (LCDC) specializing in adult and adolescent outpatient treatment. I received my LCDC from St. Thomas University in Houston. Through my own lifetime journey with addiction and recovery I discovered a passion in working with people who are battling substance abuse issues. I have a natural innate calling to help people and can quickly establish a great rapport and harmony with all my clients.
It is my goal to help you reach your full potential in life and realize that you can enjoy happiness substance free. Take that first step and come meet me where you are, this is a judgement-free area. I know you will love our therapeutic approach where we practice didactic techniques and process through internal and external barriers to recovery. Stop hurting, and begin your recovery today! In my spare time, I like to travel, sail, hike, cook and read while lounging on a beach.
"I do not think of all the misery, but of all the beauty that still remains." -Anne Frank
Patrick Hagler, LMFT, LCDC
Patrick Hagler, LMFT, LCDC (B.A. Film Studies, University of California, Santa Barbara; M.A. Clinical Psychology, Antioch University Los Angeles; Chemical Dependency Counselor Certification, Loyola Marymount University, Los Angeles) joined New Dimensions in the Katy location as Clinical Director in 2021. Patrick is a licensed Marriage & Family Therapist and Licensed Chemical Dependency Counselor. Patrick has worked in several inpatient residential and outpatient settings providing mental health and substance abuse counseling for adolescents and adults. Patrick is trained in EMDR therapy (by Rick Levinson) and completed a 2-year Gestalt Experiential Psychotherapy program under the mentorship of Dr. Allen Berger. Patrick's philosophy is rooted in Gestalt Psychology and Mindfulness Based Cognitive Therapy. He uses a "here and now" approach and helps clients escape from the negative cycle of chronic, debilitating, self-reflective judging. He believes each person has a true, lovable self that wants to emerge. His goal is to help each patient reclaim that true self by release from the self-constructed "prison of the mind". He teaches mindfulness practices to reduce depression and anxiety in clients by helping them identity maladaptive, unconscious, unhelpful habituated ways of reacting and replacing them with healthy ways of responding. He helps his patients get out of their own way! In his free time, Patrick enjoys working out, running, and spending time with his wife and three children.
"For the ordinary man or woman, whose mind is a checkerboard of crisscrossing reflections, opinions, and prejudices, bare attention is virtually impossible; one's life is thus centered not in reality itself but in one's ideas of it. So long as the winds of thought continue to disturb the water of our Self-nature, we cannot distinguish truth from untruth. It is imperative, therefore, that these winds be stilled."
Philip Kapleau, "The Three Pillars of Zen, pgs. 12,35"

Gary Hilliard, BS, LCDC
After receiving a Bachelor's of Science Degree in Banking and Financial Institutions at the University of Houston, Gary Hilliard, BS, LCDC worked as a banker for several years prior to a second career as a Licensed Chemical Dependency Counselor. Gary started his career as an addictions specialist with the Cenikor Foundation in Dayton, Texas, where he worked for four years. In 2011, Gary joined New Dimensions Day Treatment Centers where he works as the Director of Substance Abuse Counseling.
Laura Alper, MA, LCDC
Laura is the Director of the Adult Chemical Dependency Program in the Woodlands. Laura is a Licensed Chemical Dependency Counselor specializing in adult outpatient treatment. She received her Bachelor's degree and Master's degree in psychology from the University of Houston – Clear Lake. Laura has experience working with clients involved with the Criminal Justice System, Specialty Courts and Texas Department of Family and Protective Services. She also has training and experience working with dual diagnosis clients. Laura previously worked as a Drug and Alcohol Prevention Specialist educating youth and families on drug and alcohol prevention, teaching family dynamics and parenting skills.
Dr. Salvatore Paul Carbonaro, Jr., PhD, LCDC
Dr. Salvatore Paul Carbonaro, Jr., PhD, is a licensed psychologist (LP – #38815), and a licensed chemical dependency counselor (LCDC – #11421) within the state of Texas. Sal earned his doctorate in psychology from Fielding Graduate University, which is an accredited university by the American Psychological Association (APA). Sal also completed his clinical training and postdoctoral fellowship with The Guidance Center in Leavenworth, KS, which is an APA approved clinical internship training facility. Other clinical training experiences occurred with the Beauford H. Jester IV psychiatric prison facility, where he provided therapy to inmates with co-occurring disorders, and the University of Texas Health Science Center Houston, where he worked with individuals who have an autism spectrum disorder. Sal's dissertation investigated the effects of post-traumatic stress disorder (PTSD) among those in recovery from alcoholism, which found the importance of working through shame and guilt.
Sal is a veteran of the U.S. Navy, and served between 1999 and 2004 as an electronics technician onboard the USS Tarawa. After he was honorably discharged from the military, Sal worked as a licensed prevention specialist within Aldine ISD, where he provided life skills lessons designed to teach middle school students about the dangers of substance use and ways to cope with life stressors. He has provided individual and group therapy to children and adolescents within private practice settings, as well as within juvenile detention centers (JDC). He has also provided individual and group therapy to adult men and women within community treatment centers, prison facilities, and private practice settings.
Sal is the Director of Adolescent Treatment at New Dimensions at the Woodlands, TX location. He provides group and individual guidance to adolescents struggling with a wide range of psychological diagnoses. Sal is also available to conduct psychological testing with adolescents, which can enhance diagnostic clarity as well as treatment planning for improved methods of therapeutic healing.
In his spare time, Sal enjoys spending quality time with his two children. He also enjoys reading, writing, visiting various places around the Houston area (e.g., NASA, the Houston Museum of Natural Science, the Houston Zoo, etc.), oil painting, watching science fiction movies, watching sports, and going to the gym.
Amanda Rhodes, LMSW
Amanda Rhodes, LMSW, is the Adolescent Program Therapist at The Woodlands. She received her Master of Social Work from the Graduate College of Social Work at the University of Houston. Amanda has several years of experience assisting children and ​adolescents towards their mental, emotional, and behavioral health goals as well as increasing healthy relationships between youth and their family members. Amanda has worked in various settings including inpatient, outpatient, schools, and non-profit. She has utilized several therapeutic treatment modalities such as: cognitive behavioral therapy, motivational interviewing, solution-focused, crisis intervention, as well as, practices from a person-centered and trauma-focused approach. Amanda has helped youth with depression, anxiety, substance use issues, low self-esteem, aggression, suicidal thoughts, self-harming behaviors, life stressors, trauma, and severe mood shifts. Amanda is passionate about the lives of youth and believes strongly in meeting them where they are at in their life journey.
Stephanie Zeid, PhD, PsyD
Dr. Stephanie Zeid is a Licensed Clinical Psychologist in Arizona and Texas with a specialization in neuropsychology and health psychology. She earned her undergraduate degree from Vanderbilt University in Nashville, Tennessee, and her Master's and Doctoral Degrees from the Florida Institute of Technology in Melbourne, Florida. Her pre-doctoral APA-accredited internship was completed at the University of Alabama at Birmingham, specializing in medical psychology and neuropsychology. She completed her post-doctoral fellowship at the University of Texas Health Science Center/McGovern Medical School in Houston, Texas, focusing on neuropsychological assessments across the lifespan.
Presently, Dr. Zeid specializes in providing psychological and neuropsychological assessment services for children, teens, adults, and older adults, providing diagnostic clarification and treatment recommendations for disorders related to the brain and behavior. A clinical interview, review of records, and testing are combined to provide a comprehensive picture of the individual. Specific areas of assessment include but are not limited to, anxiety, ADHD, behavioral issues, bipolar disorder, cognitive impairment/dementias, concussion/head trauma, depression, diagnostic differentiation, giftedness, intellectual abilities, learning disabilities, memory concerns, and personality disorders.
Jessica Preston, M.Ed., LPC-Associate
Hi! I'm Jessica. I'm a Licensed Professional Counselor Associate (under the supervision of Ashley Anglin, LPC-S) and an Adolescent Therapist. I obtained a bachelor's degree in business administration with a minor in psychology in 2014 and began teaching shortly thereafter. In 2021, I earned a Master of Education in School Counseling from Nicholls State University but remained in the classroom. I moved to Texas and decided it was time for a career change. I joined New Dimensions in May of 2023. I have helped adolescents with depression, anxiety, substance use issues, low self-esteem, suicidal ideations, self-harming behaviors, life stressors, trauma, and communication with parents. I have nearly 10 years of experience with adolescents from diverse backgrounds, including immigrants, LGBTQ, and low socioeconomic populations. I use a combination of modalities, but my approach focuses on Cognitive Behavior Therapy (CBT) and Dialectical Behavior Therapy (DBT). I am continuously learning and implementing techniques to help my clients heal and become their best possible selves. I am currently pursuing a PhD in Counselor Education and Supervision at the University of Holy Cross. In my spare time, I enjoy spending time with my daughter and going to Astros & Space Cowboys games and concerts.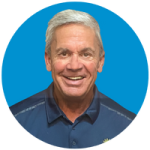 John OShee, Marketer
John was raised in Louisiana and in his early twenties decided to serve his country as a United States Army Infantry Officer.  Following his career in the military he changed his focus to mental health with an interest in substance abuse.  
John earned his Bachelor's degree in social work from Northwestern State University and a Master's degree in social work from Louisiana State University in Baton Rouge. He has been employed in the mental health field for over 20 years, with 15 of those in residential substance abuse and psychiatric inpatient work.  
For the past five years, John has directed his passion for helping those suffering from addiction in combination with his education and training to pursue business development for New Dimensions and share our co-occurring treatment approach. 
If you have ever wondered why some people excel in their personal and professional lives while others struggle to find their footing, you are not alone. The answer lies in a remarkable trait known as emotional intelligence. Unlike intellectual intelligence, emotional...